China – Implementation of Stricter Regulation on Solid Waste Importation from 2018 (No.2)
We have obtained the captioned information from Huatai Insurance Agency & Consultant Service Ltd., our correspondent in Xiamen, China, which is as follows:
= Quote =
Summary
Since 24 types of solid waste were added into import ban list on 10 August 2017 (*Note by Japan P&I Club: for details please refer to Japan P&I News No.945 dated 22 February 2018), the Ministry of Environmental Protection, the Ministry of Commerce and other two Ministries of China jointly issued the announcement of Amendment on Administrative Catalogue of Waste Importation on 13 April 2018. This amendment mainly includes the following changes:
16 types of solid waste, including scrap metal, scrap ship, compressed piece of scrap automobile, smelt slag and industrial waste plastic etc. are added into import ban list, effective from 31 December 2018.


16 types of solid waste, including stainless steel waste & scrap, titanium waste & scrap, wood waste & scrap are added into import ban list, effective from 31 December 2019.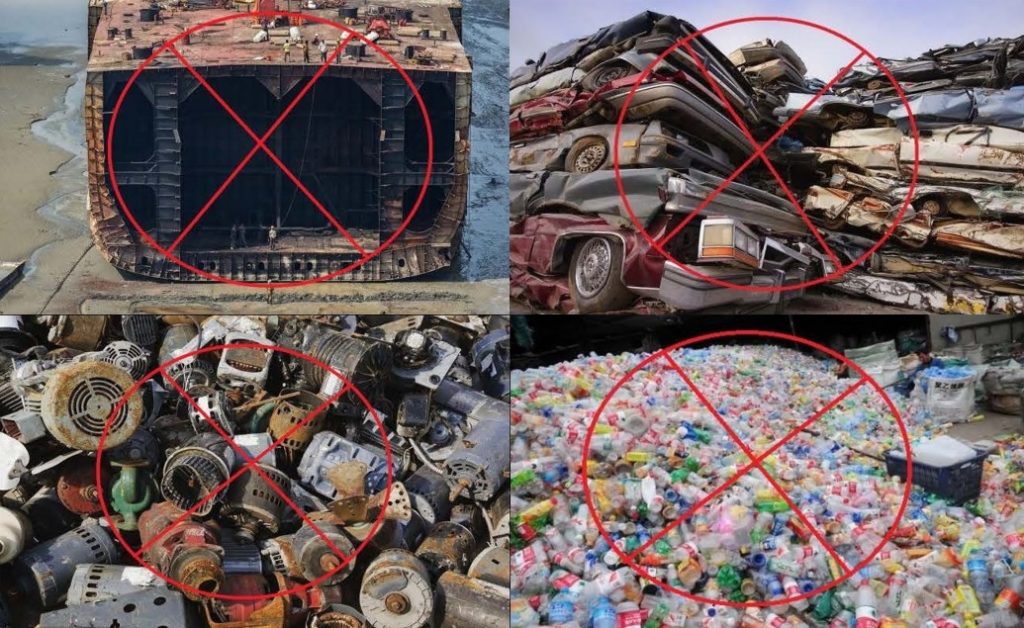 Legal liability
According to the relevant regulations of China, dumping, storing and disposing the foreign solid waste in China, importing the banned solid waste or restricted solid waste without license, the Customs shall order to return the solid waste; furthermore, a fine of not less than RMB 100,000 but not more than RMB 1 million may be imposed. If the act constitutes a crime, criminal charges may be brought. If the importer is unknown or cannot be contacted, the carriers shall be responsible to return the solid waste or bear the disposal cost of the solid waste.
Suggestions
We suggest that carriers should take relevant measures to verify whether the shipments belong to the banned or restricted solid waste before accepting the booking, including requesting the shipper/booking party to provide accurate information, customs code and relevant licence of the shipment, etc.
We also suggest shipping company who has plan of ship recycling in China shall adjust their plan accordingly in order to locate a proper country/shipyard which could meet with the relevant convention or local regulation.
= Unquote=
For further information, please click here.
Most read News
Related News