A presentation by Capt. Asai Toru, the Japan P&I Club at the Tokyo MOU Commemorative Ceremony for 30th Anniversary
To the Members
The Tokyo MOU (Port State Control in the Asia-Pacific region) celebrated the 30th anniversary of the adoption of the Memorandum, at a Commemorative Ceremony and Reception in Yokohama on 31 October 2023 in order to reaffirm the values and harmonise the related activities. The Association has shared the values of the Tokyo MOU since the adoption on 1 December 1993, and was invited to the events as a representative of the International Group of P&I Clubs (IG). Capt. Asai Toru, General Manager of the Japan Club's Loss Prevention and Ship Inspection Dept., gave a presentation.


About 80 people from 26 countries as the members/observers and the Secretariat of the Tokyo MOU attended the Ceremony. Our presentation was favourably received, as was Capt. Asai's Q&A on the Association's Loss Prevention Activities after the presentation.

Please see below the Summary of the Presentation and Programme of the Ceremony.
1. Summary of the presentation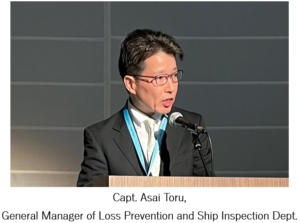 Title of Presentation: Expectations for Tokyo MOU/Our Goals for "Zero accidents"
The Japan P&I Club is a non-profit mutual insurance organisation that provides a wide range of third-party liability insurance and insurance-related services for its members, with a strong focus on loss prevention activities, as follows :
Arranging condition surveys for entered/newly entered vessels in order to support safe navigation.
Providing regularly-updated safety information.
Sharing information with members through Seminars, Loss Prevention Bulletins, and other Loss Prevention News, and video seminars
2. Programme of the Ceremony

Time & Date: 31 October 2023.
Venue: Grand Ball Room, 20th Floor, Hyatt Regency Yokohama. Commemorative Reception Hotel : Mielparque Yokohama.

Opening:
Commemorative Speeches
Mr. Mick KINLEY, Chief Executive Officer, Australian Maritime Safety Agency.
Mr. XU Chun, Deputy Director-General, Maritime Safety Administration, China.
Mr. KAIYA Atsushi, Director-General, Maritime Bureau, Ministry of Land, Infrastructure, Transport and Tourism of Japan.(Mr.SUZUKI Nagayuki spoke on behalf of Mr.KAIYA)
Vice Admiral Rodolfo SABLICH LUNA VICTORIA, Director General, Directorate General of Captainships and Coast Guard, Peru.

Congratulatory Address:
Mr. KIDA Satoshi, Senior Program Director, Ocean Affairs Department, The Nippon Foundation.

Commemorative Presentations:
Moderator Mr. Kenny CRAWFORD, Chair of PSCC of Tokyo MOU.
Presentation on '30 years of Tokyo MOU' by Mr. KUBOTA Hideo, Secretary, Tokyo MOU

Presentation on 'Expectations for Tokyo MOU'
Capt. OHMORI Akira, Managing Director, The Japanese Shipowners' Association.
Mr. MATSUURA Mitsuharu, President, All Japan Seamen's Union.
Capt. ASAI Toru, General Manager, Loss Prevention and Ship Inspection Department, Japan P&I Club.
Mr. SAKASHITA Hiroaki, President & CEO, ClassNK.
Yours faithfully,
Japan P&I Club
Most read News