25th June-"Day of the Seafarer" campaign: #ShoutOutForSeafarers
To the Members
25 June of each year is the "Day of the Seafarer".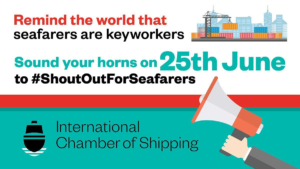 International Chamber of Shipping (ICS) is encouraging vessels in ports around the world to sound their horns at 12 noon local time on the 25th June to remind the world of the urgent need to vaccinate all seafarers.
For more details, please see the ICS's website and the International Group's LinkedIn page.