Report on P&I Condition Surveys 2018
This is a report on the condition surveys conducted in 2018 policy year (hereinafter referred to as "PY").
Objective
Our condition surveys are conducted by independent surveyors for both vessels presented for entry and already-entered vessels that have reached a certain age.
The objective is to encourage to maintain the standard of vessel's management and seaworthiness above a certain level in accordance with the guideline of the International P&I Group.
180 vessels surveyed in 2018
In 2018PY, we conducted condition surveys on a total of 180 vessels including 89 post entry surveys and 91 pre-entry surveys.
63% of the 142 entered vessels were actually surveyed. The rest of 53 vessels were not surveyed due to the vessels' schedules and the convenience of the ports of call. The surveys for the 53 vessels are planned for 2019PY.
For 2019PY, we are planning to survey 145 vessels (as of 20 March 2019) including all 53 vessels which were not surveyed in the previous year. Although we have conducted the surveys mainly in Asia, they may be arranged elsewhere.
Ultrasonic testing of hatch cover weather-tightness
Defect Trend
The most common defects are related to (i) hatch covers (ii) engine room machinery and (iii) oil spill prevention. This trend has been unchanged since our previous circular No.18-007. The Graph below shows the number of defects found during the surveys in 2017PY and 2018PY.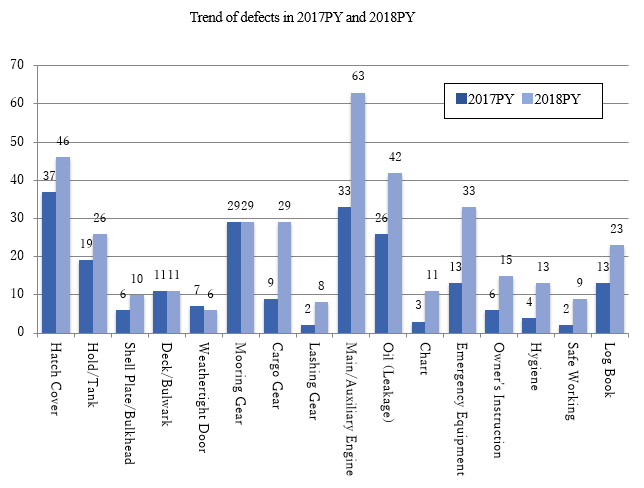 Thirteen vessels among those to which we made recommendations had serious deficiencies that could cause an accident. We issued defect warranties which warned of restriction of coverage to the thirteen vessels along with the recommendations. Some of the defects warranties issued are as follows.
[General cargo, dry-bulk or wood-chip carrier vessels]

Failing the ultrasonic test for cargo hatch covers (See our circular No.16-011 dated on 13 July 2016)
Poor condition of non-return valve of hatch coaming
Significant amount of rust (over 70%) found in all cargo holds
Hand rails, vertical ladder and platform heavily corroded or damaged in cargo holds
Hatch cover cleats heavily corroded or stuck
[Container vessels]

Deformation of container cell guides. Heavy corrosion of cell guide support pillars
Water ingress in cargo holds (up to10cm deep)
[Other vessels (common defects)]

Heavy wear and tear of break linings for windlasses and mooring winches
Oil leakage from several machine units in engine rooms
The picture below left shows a hatch cover rubber gasket defect found during a condition survey in 2018PY, and the below right is after the repair.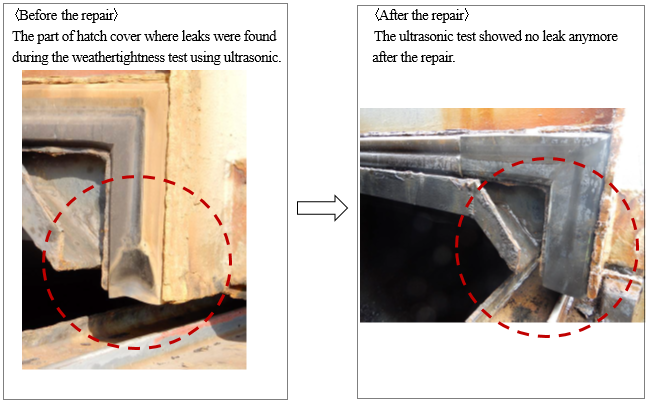 The survey found cases where the ship's maintenance plan was not implemented effectively or only temporary repair had been done (only the silicone putty or marine tape was applied to the hatch cover, for example) and proper repair had not been done even when ship had the plan. It is important to repair properly and to find out why the proper repair has not been done as well as considering the measures to prevent such negligence from happening again.
Conclusion
Our Members' cooperation is indispensable for successful condition surveys. Members should consider the survey not only as a tool for preventing accidents but also as an opportunity to assess the vessel's condition objectively. We would appreciate our Members' kind understanding and cooperation.