Cultivation Beds in Japanese Coast
Introduction
A harmful rumor caused by infection prevalence of Norovirus (NV) - Small Round Structured Virus (SRSV) which started last December attacked oyster fisheries resulting in reduction of production by 1/3 comparing to the same in an average year. Report says that they are endeavoring to obtain pickup in oyster consumption through the campaign works.
By the way, within the Japanese waters, cultivation of oysters, scallops, pearls and/or wakame sea weeds have been prevailing in the various bays, coves and nearby area of the narrow channels. We hope the following information will be of some assistance to our Members.
Where cultivation beds locate
The oyster culture prevails in Hiroshima, Okayama, Miyagi and Iwate prefectures and the scallops are richly cultivated in Hokkaido, Aomori and Miyagi prefectures. The pearls are produced in Mie, Ehime and Nagasaki prefectures. While the wakame sea weeds are one of the most popular production on the Japanese coast starting from Hokkaido to the Kyushu areas, especially the Sanriku district of Iwate prefcture, the Naruto of Tokushima prefecture and the Awaji-shima Island area of Hyogo prefecture are the well known farming areas.
The following illustration shows the typical area where the cultivation beds locate.
*Please click picture to enlarge.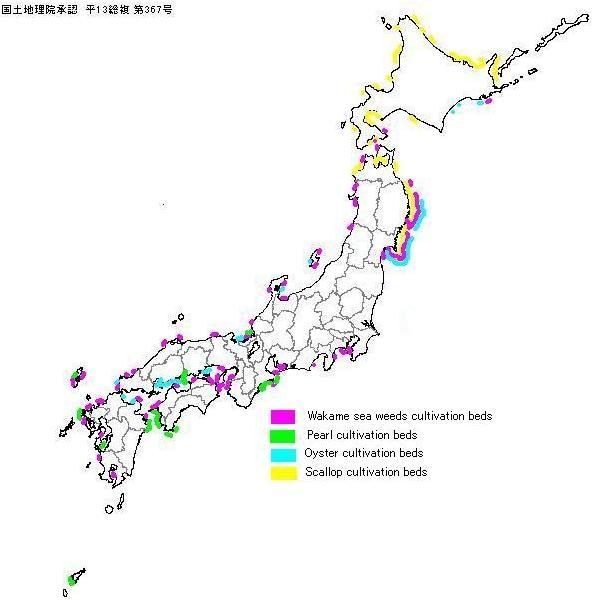 Cultivation Method
There are two cultivation methods, one is the "Direct Cultivation" and the other is the "Hanging Cultivation". Please refer to the attached pictures No.1 and No.2 as well as the illustrations No.1 and No.2 shown in the following pages 3 and 4 with regard to the hanging cultivation.
1.Direct Cultivation
Sowing baby scallops (either natural products or cultivated ones) into the shallow waters and leaving them as they are until the harvest. This method is introduced in the Hokkaido area.
2. Hanging Cultivation
There are two methods, namely, one is so called the "Raft Method" and the other is "LongLine Method".
(1)Raft Method (see picture and illustration No.1)
Rafts are usually set in the calm bay areas where is comparatively deep water. They are composed of cedars and bamboos, attached to the barrels or Styrofoam floats and anchored to the sea bed.
For the oyster culture, baby oyster shells attached to the scallops are hung down in the water by wires.
In the cases of cultivation of scallops and pearls, several baskets in which baby shells are put are hung from the rafts.
(2)Long Line Method (see picture and illustration No.2)
Aquafarms with long line method are usually set in the deep inner bays or open sea. Long lines are connected to plastic barrels or floats to keep buoyancy of long lines, and the both ends of which are anchored to the sea bed.
Three major systems of the Long line method are popularly practiced, such as single, double or combination systems, and the selection of which depends on the conditions of each fishery.
For the purpose of oyster, scallop and pearl cultivation, cultivating baskets are hung from the long lines.
Meantime, in the cases of cultivations of wakame/konbu sea weeds, seeded ropes are attached to the long lines.


*Please click each picture to enlarge.


Picture 2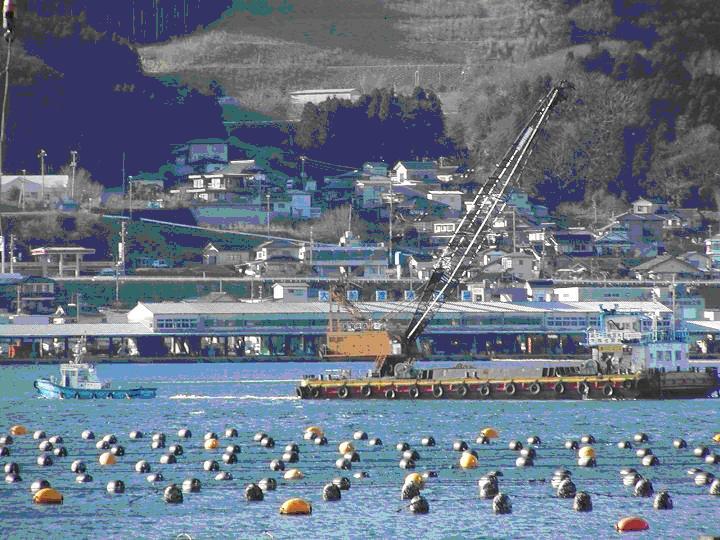 Illustration No.2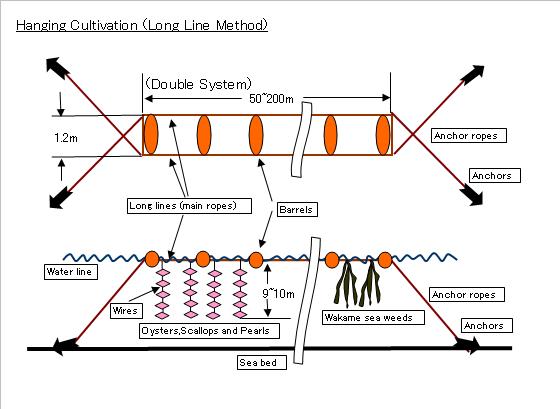 Accidents and Damages
When leaving Aomori-port, a cargo boat of 25,967G/T felt a slight bottom shock but kept on sailing to the next calling port of Sendai, Miyagi prefecture, where the Japan Coast Guard came on board to investigate the cause of damages to the scallop cultivation beds. Fishermen claimed for 32 sets of total loss and 2 sets of partial damages of the cultivation beds in the amount of 98,900,000. The Association paid 76,000,000.


Just after leaving Ofunato of Iwate prefecture for Sendai, a 4,992G/T cement carrier mistakenly went on direct without changing her course and hit cultivation beds of oysters, scallops, ascidians and so on resulting in damages of 18,600,000.


A 497G/T general cargo coaster carelessly dropped her anchor within an oyster cultivation area at Ohara, Miyagi prefecture and asked the fishery association for rescue. Fishermen claimed 21,100,000 but agreed at 19,000,000. 2,753,500 of which was contributed by the hull underwriters as costs of expanded damage in rescuing the vessel under their hull policy.


While anchoring in ballast off Ako, Hyogo prefecture, a 452G/T coaster dragged her anchor due to the passage of developed low pressure and ran into oyster cultivating beds. 12 sets were totally damaged and 13 sets were partly damaged. The Association paid 49,850,000.


A chemical tanker of 355G/T, while on her way from Kawasaki of Kanagawa prefecture to Shinmoji, Fukuoka prefecture went into wakame cultivation beds off Satoura, Tokushima prefecture due to drowse of the watch crew resulting in total damage of 12 sets. The Association paid 10,320,000.


A coastal tanker, 698G/T, which was in her North bound lane of the Hayase Seto Channel on the way from Sakaide, Kagawa prefecture, to Hiroshima prefecture ran into oyster cultivation beds due to mis-maneuvering. The Association paid 26,000,000.


While sailing for Osaka a cargo boat of 499G/T, laden with 1,535 tons of coal, mistakenly changed her course by crew−s misunderstanding of course altering point and went through pearl cultivation beds set at Saiki, Oita prefecture and grounded on the outside rock of the harbor. The claim was agreed at 35,500,000 out of the originally claimed amount 44,450,000.


A 7,652G/T deck barge arrived at Etajima Island of Hiroshima prefecture and fastened her to a buoy carefully by using additional lines for preparedness for approaching cold front. Another 2 barges had been already secured to the same buoy also. However, unexpected strong blow cut her lines and she started to drift with 2 barges and the buoy which involved an anchor chain of a crane barge until nearby oyster cultivation beds stopped them. 42 damaged beds cost 32,555,000 for repair and an additional payment of 7,035,000 was necessary for repair for 2 barges and crane barges as well as restoration charge for damaged buoy.


While maneuvering to sail out from Ofunato for Yokohama, a 6,835G/T cargo vessel accidentally went through oyster/scallop cultivating beds and run aground. For the purpose of her salvage operation, it was apparently necessary first to move away the beds and thereafter they were restored. The fishery claims were agreed at 17,000,000 and 11,824,000 out of which was borne by her hull underwriters as it assessed costs due to salvage of the vessel.



How to do when entering into cultivation beds
In case of entering into oyster cultivation beds, though it depends on its farming period, a cost of 3,000,000 (2,600,000 for loss of income and 400,000 for repair) per one set of bed will be anticipated. An ordinary scale of fishery farm usually has 50 sets of rafts. If all of them suffer damages, the compensation necessary to be paid will amount to 150,000,000. Usually 5 to 8 rafts are connected together by wires, so, in case of the worst scenario where all components such as rafts, anchor ropes, wires, hanging wires and products thereon being lost, removal work of the wreckages by using large crane ship will be inevitable for restoration of the beds and it will cause incalculable loss.
When our Member unfortunately goes through the cultivation beds, please notify the fact to the nearest coast guard office, ship−s agent, fishery association concerned and JPIA. The Association will dispatch an appropriate surveyor if necessary.
If a ship's propeller is entangled in wires of the beds, it will be advisable not to attempt escape by ship−s own propulsion but to ask for assistance of salvors and/or fishermen. The effort to escape from cultivation areas by using a ship−s own propulsion may unfortunately enlarge damages.
Enlarged damages caused during the ship−s salvage operation will not be recoverable from the Association but from the hull underwriters.
We recommend obtaining information concerning the cultivating beds before you sail in the area in question and hope your ship's safe navigation!