P&I Loss Prevention Bulletin – A Psychological Approach to Safety Behaviour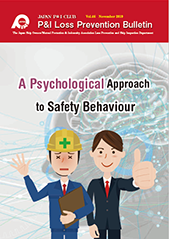 "P&I Loss Prevention Bulletin Vol.46" has now been published.
We introduce psychological aspects of human error which caused almost 70% of all maritime accidents.
We are dispatching our Bulletins to the Members and Entered ships.
However, if you would like additional copies, please feel free to contact us by following the link below.